Photo courtesy of Mark Nas
#MyColemanAdventure: Passion-Driven Mark Nas
Senior Scientist Mark shares his journey in the outdoors as a hiker & camper with us!
Has your passion led you right into your purpose? Joining the Boy Scouts in his primary and secondary school days paved the way for Mark's deep appreciation for the outdoors. This ignited his goal of addressing some of the world's problems like hunger and food shortage, leading him to pursue an environmental career.
Mark carried on to take up a doctorate at the University of the Philippines, focusing on genetics, plant breeding, and molecular biology and biotechnology. Now at 44, he educates locals on the best way to grow crops as he travels to different areas, experiencing the beauty of nature alongside his wife Gretchen, daughter Isa, and his friends.
Photos courtesy of Mark Nas
Scout's Honor
"I've always loved the outdoors…life got busy, but I still did occasional hikes
and went on to more serious ones when I had more time."
Mark's early exposure to the outdoors as a Boy Scout instilled in him a good set of values. It was only after a busy life in college that he would dedicate his free time to going on more outdoor adventures, starting with mountain climbing trips to Mt. Makiling and Mt. Apo.
He considers his trip to Mt. Pulag as a new college graduate as one of his most memorable adventures. Mark fondly remembers how he and his colleagues did not have enough money at the time, leading them to raise funds to push through with the climb. It was challenging — from taking public transportation to following the long trail from day to night. Reaching the summit, seeing the magnificent views, and soaking in the goodness of nature made the whole journey worth it.
After several months of lockdown, Mark's remarkable adventure was camping with his family for the first time. Two years ago, he was looking for a place to conduct plant science experiments for work in Cavinti, Laguna and found Silent Sanctuary Reserve Campgrounds. He described it as the "perfect place with a cold water lagoon flowing into a small rice field". The next thing he knew, he immediately booked his family's stay for the next weekend without consulting his wife!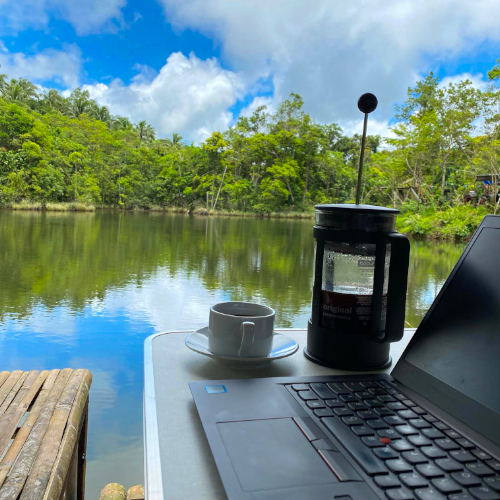 Photos courtesy of Mark Nas
The Outdoors Is Calling
"We didn't prepare much but we were very happy and got to enjoy nature."
Taking time outside has given Mark and his family the mental health break they have been waiting for. During their first camping trip together, all they had was a blue Coleman cooler, a borrowed tent, and themselves, yet loved the whole trip for everything that it was. The quietness and peacefulness of the scenery inspired Mark at work and even with his daughter's curriculum, with Mark supplementing the outdoors with his daughter's online classes. Family bonding time became fun with activities like swimming in nearby waterfalls, going on bike or forest trails, and playing board games. From then on, they make it a point to go camping all together at least once a month.
Being a part of the car camping community, Mark feels that "it's always a pleasure to interact, learn from and contribute ideas to the group knowledge." He thrives on making connections with those who have the same passions and finds it much more fun to meet in campsites. Further strengthening his awareness of the environment, social justice advocacies, and priority on mental health, Mark often invites friends over, who end up loving camping and the outdoors as much as him.
Photos courtesy of Mark Nas
Adventure Companion: Coleman
"Coleman is well-known for its high quality, that's why I have their coolers."
Coleman has been Mark's travel essential for as long as he can remember. Before the pandemic, he traveled to and from General Santos with some fresh tuna packed for his family. Since the trip was six to seven hours, he kept the fish safe and frozen in his reliable, long-lasting Coleman cooler for he has known the brand based on its high-quality material, easy portability, and a necessity for his trips.
Mark's collection has gotten bigger the more he goes on his outdoor adventures, grabbing the party stacker coolers in different colors, water jugs, and extendable skewers only from Coleman. The next item on his camping to-buy list is a bright and powerful lantern, so he can be ready whenever the lights are out.
Photos courtesy of Mark Nas
Self-Discovery
"Spending time outdoors, I am given a chance to reset…
I can take a step back and then move two, three, or more steps forward."
Thanks to the freedom brought by the outdoors, Mark can let go and be in the moment. "There's so much noise in work, so many things happening, that being outdoors is so precious," he says. The peace and quiet really clear his mind for renewed thinking, helping him craft the best ideas for work and give time for the important things. As a researcher, scientist, husband, father, and human, Mark's experiences outdoors teach him to be better.
With the saying "Aim for progress, not perfection," he realizes that there are endless ways to improve at your own pace. As you face life's different challenges, Mark invites you, our readers, to appreciate the present, to make the most out of opportunities without too much worries. You too can reset, step back, and move forward.
Note: This article was based on an interview with Mark Nas.